Vibrating Screen
YK Series Circular
vibrating screen
absorbs Germany technology with high efficiency. The amplitude of the vibrating screen can be adjusted. The screening line is long and specification of materials is various, and it is also of reliable structure, strong exciting force, high screening efficiency. It is widely used in sieve different sizes of aggregate. It is also applied to coal dressing, ore dressing, building material, electric power and chemical industries.
Circular Vibrating Screen structure:

Circular vibrating screen is composed by sieving box, mesh, vibration exciter and damper spring ect. the vibratory screen adopts the vibration exciter with barrel type of eccentric shaft and block to adjust the swing. The vibration exciter is installed on the lateral plate of the sieving box. The motor makes the exciter swing round speedily through tire coupling. The continuous forced circular motions of sieve box were achieved through the powerful centrifugal force. The lateral plate made by the high quality steel plate withour any welding point. The lateral plate, beam and the vibration exciter connected by the high strength bolts and ring-grooved lockbolts.
Circular Vibrating Screen Features and Benefits:
1. High vibrating force with unique eccentric structure. Adopt advanced construction, making the vibrating force powerful.
2. The beam and case of the screen are connected with high strength bolts without welding.
3. Simple structure, easy to repair.
4. Adopt tire coupling and soft connection makes operation smooth.
5. High efficiency, easy maintenance, sturdy and durable.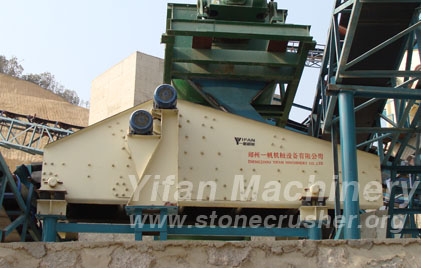 ZK series linear
vibrating screen
absorbs German advanced technology with unique eccentric structure. It is used in coal, metallurgy, electric power, building materials etc. It is suitable to dewater, demud, demedium and classifying and dry material of fine and medium size.